DECATUR MAKERS – COLLATERAL
Once the logo system was designed, our attention turned to creating brochures and giveaways. This gave us the opportunity to expand the visual language of the brand to include photography, icons and illustrations.
---
MEMBERSHIP BROCHURE – TRIFOLD
Very early in the buildout of the Decatur Makers' workspace, there wasn't much of a there there, but this brochure helped the group describe what they were planning to build to the Atlanta Maker's Faire, and Decatur Book Fair audiences.
decaturmakers_brochure_sm2

---
KICKSTARTER – PREMIUMS
Decatur Makers ran a kickstarter campaign to fund their proposed metalshop. They asked us to design a premium limited edition print (on metal) and a T-Shirt for the smaller donors.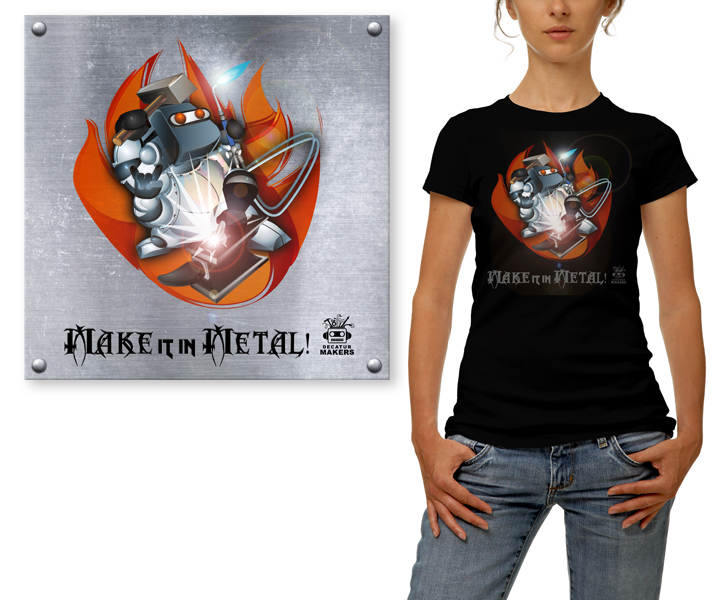 ---
GATEFOLD BROCHURE
This brochure was designed to solicit new individual and corporate members in the buildout of the Decatur Makers' workspace. The plans for the space and sponsorship levels were well thought-out and designed to encourage involvement of sponsors big and small.
decaturmakers_brochure_gate_sm

---
BANNER and AD
This banner (left) was designed and produced to recruit new members and to hang over demonstration tables set up at community events like the Decatur Book Fair. It was designed to remind them of the print ad (right) designed for community magazines.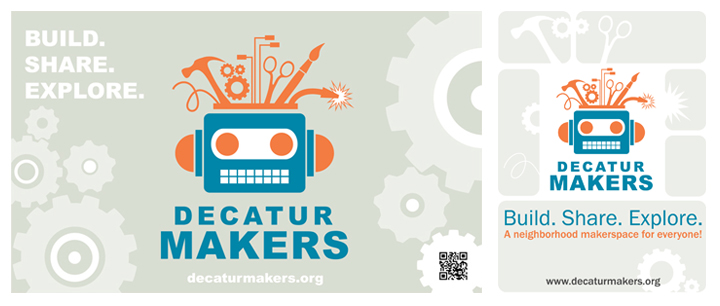 ---
BUSINESS CARDS
This business card was designed to allow the many people associated with the Decatur Makers to personalize it with their own contact information.